Paper Secrets celebrated its 3rd birthday over the weekend with a few challenges. I decided to enter a few of them.
The first was the birthday layout challenge. The photos had to have something to do with a birthday and:
It's paper secrets 3rd Birthday so to celebrate we will create in 3's.
For this challenge you are to use ONLY 3 of each item listed and your layout must be birthday related. You must use at least 5 of the 10 items below.
You can also use other items in addition to the 5 as long as you use them in 3's. 3 flowers, 3 brads, 3 papers, etc.

3 Patterned Patterned
3 Brads
3 Flowers
3 Ribbon/Trim
3 Stick Pins
3 Stamped images
3 punched items(border,shapes,corner)
3 photo corners or anchors
3 tags
3 chipboard
Wowie. What a challenge, eh?
This is what I came up with:
I used:
3 patterned papers, all
Momenta
from the Let's Party premium paper pack PA-2370
3 chipboards - sweet and two chippie buttons
3 flowers (Recollections)
3 mini tags
3 bigger sized brads
I might end up DQ'd because I did use 4 different cardstocks, but the two blue ones are just one is textured and one is not, so I think I can fight my case :)
I also journalled in 3 spots - around both circles and below the photo.
The title and subtitle were cut using my Silhouette. The top font is called Kingthings Inkdinky available for free through lots of websites, or just visit
Kevin King
himself :)
I will finish off this post tonight-ish... just wanted to send the top bit to Kevin King while I was thinking about it :)
The second one I tried was a tic-tac-toe challenge. I have always wanted to try one of these but never get around to it!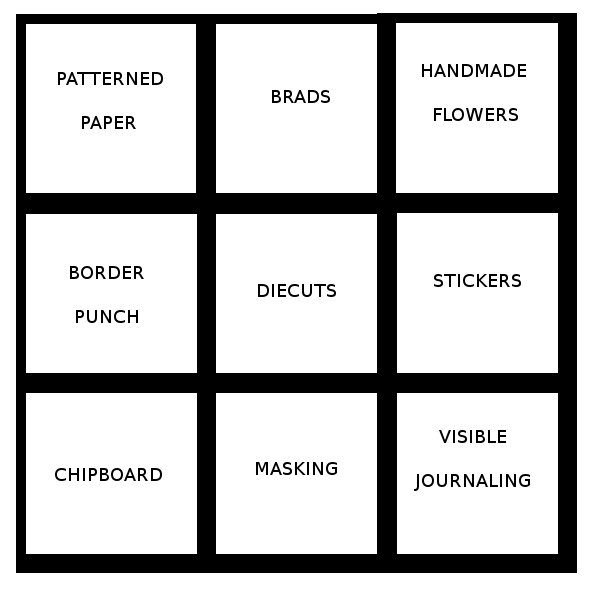 I did the centre vertical - masking (with my new TH masks I just got in the mail! yay! love! Already used them twice!), diecuts (electronic, everything cut on this page went through the Silhouette) and brads - located randomly in the centres of gears, on photos, etc. I think I need to buy brads in bulk - I have almost used up the two metal colored packages I got for Xmas. Have only used a few of the other pack I got (stars) but that's because they are shaped so I can't use them every single second of the day :)
I am also entering this one in the
Another Freaking Scrappy Challenge
1st April Challenge to show a trick or a prank... this is certainly a prank that was pulled on me, but I loved it!!!