I'm still working on the Scrap Your Ass Off Challenge at
Paper Secrets
. Its a last-woman standing competition, and I am still hanging in on week 13. Yet to figure out how I am going to stay in it while on vacation, but I'll figure it out :)
This weeks challenge: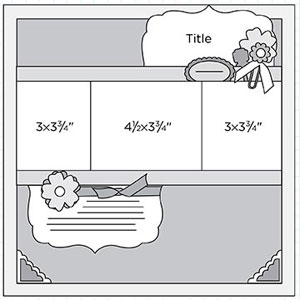 PRODUCTS (pick 4)
fabric or felt
ribbon
photo corners/anchors
3+ flowers
chip-board
3+ patterned papers
transparency
metal embellishment/hardware


TECHNIQUES (pick 1)
punches (border/corner)
acrylic paint (stamped-brushed-stencil...your choice of application)
distressing
embossing (dry or heat)
I liked this sketch right away.... it uses more than one photo! I gotta be honest, I may die in this SYAO challenge not because I can't get the page done, but because most of them are one-photo sketches and I have about exhausted all my single photo page layouts I have for all the albums I'm working on... guess I'm going to have to start getting creative :)
What I came up with this week:
See how I snuck in that extra photo as the title? I love taking photos of the signs of places we visit. I always try to take a photo of the sign first It serves many functions:
Make sure you actually remember where those photos were taken

Breaks up the photos in your files easily and simply

Gives you the right spelling

Gives you the option of using a sign for a title! I do this quite a lot, but not always.
I also try to take photos of wordy signs when I want to remember all about something, and then I can use those as journalling. Likewise, keeping all the pamphlets is helpful in case you want to add something special to your page! I have something top secret planned for all my Hawaii pamphlets that I hope to reveal soon!!
How did I do on the challenge? Well, I used: fabric for the two flowers, ribbon, 3 flowers, a transparency (on the middle photo), 3 patterned papers and chipboard buttons. My technique was heat embossing, which I did using a
Momenta
stencil
GS-165
to make the hibiscus flower. I also used Festive Berries and Wild Honey distress ink, and clear embossing powder.
Other supplies:
Momenta Endless Summer Paper Pack PA-1108
Momenta Vacation Pyramid Pack
PA-2389
Creative Memories transparent sticker and journalling card
Precocious Paper flowers and ribbon